Today I am very excited to host Kay's guest post on my humble blog (an initiative born inside the 'Elf For Health' thing; I haven't been very good at it because of that ugly flu, but the post swap was too much fun to pass on!);. She's a totally awesome fitness enthusiast and professional, and this post is truely inspirational – makes me want to head to the gym right now! I hope you all enjoy this as much as I did. (And if you miss yours truly's voice, you can find my guest post on Kaylie's blog!).
Here comes!
Hey there- I'm Kaylie!
I am a personal trainer/group instructor living in California and lovin' life. 
  I blog over at Fitness Moves You, where I offer fitness advice, write up workouts/workout videos for my readers, and ramble on about my life with family, boyfriend, and my dreams of getting into grad school.
My goal is to make exercise fun!
I know that sounds impossible, making exercise fun, because it is much more enjoyable to sit on the couch and eat chocolate all day, but exercise can be fun… trust me. [Even though you just met me, haha]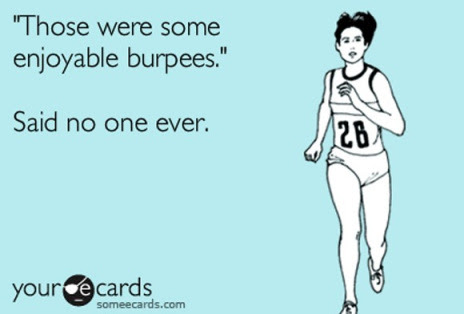 Today, I will be talking your ear off about fitness, today and convincing you that doing 100 burpees a day will make your life better.
Just kidding… well, about the burpee thing. I am going to talk about fitness, though. But it will be fun, I promise.
Anyway, today I want to share with you my 3 favorite exercises an efficient workout. I'm all about efficient workouts that won't keep me in the gym for more than 30-60min. Let be honest, no one has time to work out anymore, so the more efficient your workouts can be, the better. You can incorporate these 3 exercises into an existing workout routine, or just do them as stand alone workouts. Either way, your muscles will be burning and you will get the best workout of.you.life.
3 Exercises for an Efficient Workout~
Every Wednesday on my blog I post a workout video. So, since I'm a guest on Anna's blog today, I thought I'd share my video with you lovely people, too! Here are my 3 fav. exercises that will help you get the most out of your workout…
Excuse the winded breath. I had literally just finished my workout and thought, "Hey, Kay, this is the perfect time to film a video!" [Not 
] Just in case you can't understand what the heck I am saying, here are breakdowns of each exercise~
1. Core- The Dead Bug
This may look super easy, but this ab exercise will leave you sore for days! It helps to work all your ab muscles to give you a smaller stomach and a stronger core.
Balance on the bosu ball w/ your low back on the most-rounded part
Keep you knees at a 90 degree angle and your arms extended straight upward
Engage your core and hold for 30seconds
2. Cardio- The Box Jump
No matter the height of the box, you can really get your heart rate up and burn some serious calories by doing box jumps. Make sure you start conservative when it comes to the height so you don't get hurt. You can use your door step, a small step, or even a bench at the park as well!
Stand close enough to the box so you won't fall
Think about bringing your knees up toward your belly when you jump
3. Strength- The Clean
This one is pretty difficult to learn in terms of form, so ask a trainer for help if you can. It is better to learn with an experienced professional in person, but I tried to break down the movement as best I could. I love this weight exercise because it works your whole body at once! [Can you say time saver?!]
Practice with a PVC pipe or un-weighted bar
When squatting, always keep your weight in your heels and don't lean forward
The great things about these exercises is that you don't have to spend too much time in the gym to get the same caloric burn. Doing 15 cleans is like running a 6min mile [by my scientific calculations, 
] so you will work hard, save time, and have fun!
Thanks for letting me stop by and talking to you guys about my passion. Remember to kick butt in every workout you do- no matter how much time you have to train. I hope these exercises help you on your fitness journey!
Feel free to e-mail me if you ever have any questions about fitness/health/life: KaylieRuns@gmail.com
Question.
What is your favorite exercise?
Do you love burpees? Or do you love to hate burpees?
See ya~Kay
Fitness Moves You on Social Media: